Contractor Services
Call City Waste for all of your dumpster needs, and be assured of fast delivery and pick up.
Residential Services
It's time for spring cleaning, remodeling project or construction. Contact us to find the best waste solution for the size of your project. 
Order a Dumpster
Contact us to order a dumpster today. We'll provide you with a free estimate and the right solution for your project.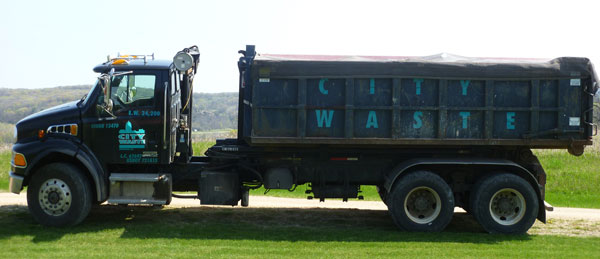 About City Waste
City Waste, Inc. has been Madison's trusted temporary dumpster and waste disposal company since 1996.  We service Dane, parts of Columbia, Dodge, Green, Iowa, Jefferson, Rock & Sauk Counties.
As a family-owned, family-run business in Middleton, we provide dumpster services for all of your big projects that require convenient, efficient waste removal including:
new construction
remodeling
roofing jobs
home clean-outs
other projects requiring waste removal
When you order a dumpster from City Waste, be assured that the rental process will be smooth. We pride ourselves in providing friendly, personalized customer service, timely deliveries and pick ups, and most importantly, reasonable rental rates.
We can help you determine the dumpster size needed and provide you with all the information you need to discard any type of material you might have.
As a small business, we realize how important it is to give our customers personalized service that larger companies aren't capable of providing. Be assured that your drop offs and pick ups will be on time and efficient.
Testimonials
City Waste provided great service on my recent remodel job. I was impressed to deal directly with the owners who were friendly and helpful. I would definitely use them again.

I've been using City Waste for the past eight years and have always been satisfied with their service. They are very reasonably priced and have extremely prompt service.

I have used City Waste, Inc. many times, they are a very dependable business, with hard working people and provide excellent service. I would recommend City Waste, Inc. to everyone.
Serving the needs of all area contractors
Our dumpsters come in multiple sizes including 10 yard, 14 yard, 20 yard, and 30 yard roll off dumpster capacities and we offer the following contractor services:
Multiple waste types accepted (C&D, Recycling, ordinary job site waste)

Variety of container sizes & types

Recycling services for clean materials

Green project disposal including shingle recycling and clean R&D waste
We care for the environment
The environment is important to us. Therefore, we strive to recycle material whenever feasible. As a participant in the Dane County Landfill Construction and Demolition (C&D) recycling program, we are approved to collect specific debris in sorted or mixed loads for recycling.
Safely dispose of your construction project waste or roofing shingles and materials with City Waste's green disposal solutions.